Archive for the 'Uncategorized' Category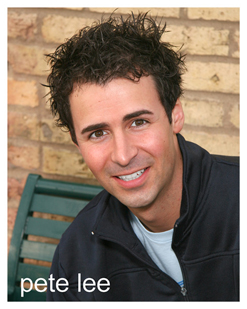 Pete Lee might be the nicest person in New York City, but that's because it's impossible to sound aggressive with a Wisconsin accent. He made his television debut on Comedy Central's Premium Blend. His comedy CD Gasmoney plays in regular rotation on XM and Sirius Satellite Radio. He is a regular on the Bob and Tom radio show. In 2010 Pete began producing and editing his own shows for the Internet which led to getting his own web show on MSN.com called New York Minute:30.
Recently, he was selected as a semi-finalist on NBC's Last Comic Standing. His growing popularity placed him 7th out of the top 100 comedians in Comedy Central's Standup Showdown. Pete also proved that his humor transcends demographic boundaries by winning Country Music Television's Next Big Comic.
Follow us on FaceBook for all the latest upcoming shows:
https://www.facebook.com/ComedyCabana
Forget "high energy"– this is frantic! His shows are always a night you won't soon forget. Dale has had numerous television appearances including, NBC TBS – The Very Funny Show- Last Comic Standing Season Six, Fox – 30 seconds to Fame and The Comedy Network in Canada.
He has also been on 2 nationally syndicated radio shows, The Bob & Tom Show and The Bob & Sheri Show. He was one of 8 finalists in "The Great Canadian Laugh Off and he was invited to perform at The Boston Comedy Festival as well as The TBS "JUST FOR LAUGHS" Festival.
https://www.facebook.com/ComedyCabana
Also Appearing: Jodi White and Cooter Douglas
Perhaps best known as the comedian who puts the cerebral in Cerebral Palsy, Josh Blue centers much of his self-deprecating act around his disability. He exploded onto the national comedy scene by capturing the attention and endearment of the country as the winner of NBC's Last Comic Standing.  Having already established himself as one of the most sought after comedians on the college circuit, his weekly appearances on Last Comic in the summer of 2006 expanded his fan base exponentially.  Josh starred in Comedy Central Presents: Josh Blue, which received rave reviews from fans and critics alike and was named the 11th best special on the network in 2011.  Most recently, Josh debuted a one-hour Showtime special, Sticky Change, where he cracks jokes and tells stories about everything from being a white African-American, to dealing with cabbies who think he'll pay in sticky change.  The special is currently available on Netflix.  He has appeared twice on Ron White's Comedy Salute to the Troops on CMT and recently made his late night television debut on The Late Late Show with Craig Ferguson.
Josh has appeared as a regular guest star on Comedy Central's Mind of Mencia and his story has been featured on Fox, CBS, ABC,and MSNBC.  He was the first comedian to perform stand-up on The Ellen DeGeneres Show, was named Best Winning Reality Show Guest for his appearance on Live with Regis and Kelly, and made a standout guest appearance on Comics Unleashed.  He became the first comic to debut a stand-up special on the big screen when 7 More Days in the Tank was shown in theatres across the country.  Blue is set to appear in the sports based comedy 108 Stitches.  Portions of the performance also aired on Bravo Network as a half-hour comedy special.  Josh is a repeat guest on such nationally syndicated radio programs as NPR's Talk of the Nation and The Mancow Show and has been featured in numerous print publications including People Magazine and The New York Times.  Josh has also performed at the prestigious HBO-Aspen Comedy Festival, Comedy Central's South Beach Comedy Festival, and The Comedy Festival in Las Vegas.  Josh has even become quite an Internet sensation with his top two YouTube videos over 3.5 million plays.
His stand-up routine is in a constant state of evolution and his off-the-cuff improvisational skills guarantee that no two shows are exactly alike.  Josh was also a member of the US Paralympic Soccer Team and competed in Athens at the Paralympic Games, the world's second largest sporting event.  
Also Appearing: Cooter Douglas
Find more information on Josh:
Follow us on FaceBook for a chance to win free tickets:
https://www.facebook.com/ComedyCabana
He has been heard on the Bob and Tom Radio Show and Comedy Central. His song "Obama Man" has over 4 million hits on YouTube. Greg has been described as "Mr. Standing O".
He is a fan favorite at the Just For Laughs comedy festival in Montreal, in Atlantic City and at the Tropicana Hotel in Las Vegas. Greg transforms himself into the decade's pop icons like Michael Jackson, Prince, Tina Turner, Mick Jagger and Aerosmith. Three kinds of comedy – one comedian – that's Greg Morton, the "Ultimate Stand-Up Comedy Act."
Find us on FaceBook:
https://www.facebook.com/ComedyCabana
Ron has toured the entire United States and has performed in America's finest Comedy Clubs, Universities, and Theatres. After doing "straight" stand-up for 5 years, he decided to stir things up a little and bring his love for A cappella music to the comedy clubs. August 1st of 1995, at Tommy T's Comedy Club in San Ramon, California was opening night of the new show and audiences have been laughing and singing with Ron ever since!
Ron's first album was released in June of 1995 and was called One Man A Cappella Jam! Ron began work on his second album on December 30, 1999 with producer Glenn Longacre. Released on January 26, 2001, Solo Effort takes Ron's music to a different level. Using contemporary favorites and up-tempo classics to create an a cappella recording that is unique and fun to listen to. See the Solo Effort Page for more information on the new album!
Currently, Ron is a corporate and cruise ship entertainer residing in Florida and also performs at his favorite comedy clubs around the country. 
Get more info on Ron Feingold here:
Also Appearing: John Charles & Cooter Douglas
You won't see or hear anything like this anywhere else! Get tickets now!!
Eddie celebrated his first 23 years as a Stand-Up Comedian with the release of his 1st comedy CD "One Take", followed up with his first DVD "There's Mustard On This Hotdog". Eddie appeared in the films such as Law & Order made for TV movie "Exiled" as well as several commercials & promotions including OPTIMUM ONLINE, Major League Baseball, New York Presbyterian Hospital, Comcast Cable and Monster.com.
Also, Nick Jr., National Geographic Channel, Care One Credit, Quicken Loans, A&E "Cold Case Files", Gothic Cabinet Craft, Red Lobster, Cablevision, Fox Sports and WCBS (New York Channel 2).
When describing Eddie's style of entertainment one can only come to this conclusion….It's just Eddie being Eddie!
 Follow us on FaceBook to get all the latest details on upcoming shows:
https://www.facebook.com/ComedyCabana
Follow Eddie on FaceBook:
https://www.facebook.com/pages/Eddie-Clark-Comic/211505778933445
Also Appearing: Ron Placone & Cooter Douglas
Unpredictability and liveliness are to be expected of any showcase headlined by Steve White. Steve's loud voice and vibrant personality assail crowds and dare them to keep up with his up-tempo style. Listed among his numerous movie credits are roles in "Coming to America", "Harlem Nights", "Clockers", "Do the Right Thing", "Jungle Fever", and "Mo-Better Blues." He's also surfaced on several Comedy Central productions, HBO, BET, and Fox television.
Steve White has appeared in such Spike Lee films as Clockers, Malcolm X and Mo' Better Blues as well as Panther, Open Season, Other People's Money, Harlem Nights, Coming to America and The Adventures of Ford Fairlane.
White's television credits include Martin, Hangin' With Mr. Cooper, Living Single, Caroline's Comedy Hour, Def Comedy Jam, Comic Strip Live, Showtime At The Apollo and Yo! MTV Raps. White has performed his stand-up comedy routines at clubs all over the country.
Also Appearing: Dein Seibold and Cooter Douglas
Find us on FaceBook:
https://www.facebook.com/ComedyCabana
**Comedy Cabana will be closed for July 4th!
Bobby has worked alongside comedy legends such as Jay Leno and Jerry Seinfield.
Over the years he has hosted VH-1's "Stand Up Spotlight", toured with Cher, Julio Iglesias, Dolly Parton, Tony Bennett, and many more. He has released six comedy CD's, "On The Inside", "Out Of Bounds", "Your Not Coming With Us", "Mr. New York", "I Wanna Go Home", and most recently "Im On The Boat".
Follow us on FaceBook for all the latest upcoming shows:
https://www.facebook.com/ComedyCabana
Basile has entertained millions of comedy fans in the United States, Canada, Europe, Australia, and Africa. You can find him on"Growing Up Greek in America." This series is spoken in Greek and English and to date has sold over a quarter of a million copies.
Basile's voices and characters have been heard on Armed Forces Radio, Television, syndicated radio in North America, and on XM Satellite Radio. Basile has over 100 television appearances throughout the world, including HBO, Showtime, Comedy Central and the Jay Leno Show on NBC to name a few.
Basile is also known for his voice work as Universal Studio's Bullwinkle J. Moose, as well as for the Cartoon Network and many Japanese Anime series. 
 Also Appearing: Cooter Douglas
Follow us on Facebook 
https://www.facebook.com/ComedyCabana
With a high energetic style, and unique rhythm, Troy Thirdgill is one of the most touring acts working today.
From cruise ships, colleges, comedy clubs, military bases and huge corporate events, Thirdgill can work them all and has. He's been to more countries  than almost any comic in the world. It's his clean but not corny, intelligent material, insanely real characters that evoke deep laughs because its from a perspective unlike so many others.
Some of Troy's T.V. appearances include Martin in the House, In Living Color, and B.E.T's Comic View.  Troy also has his own U.P.N show called The Working Guy. 
It is because of his material, high energy and hysterical characters that can be presented to a wide audience is the reason why Troy is so sought after. Make reservations in advance for these shows!
Find us on FaceBook:
https://www.facebook.com/ComedyCabana