Archive for the 'Uncategorized' Category
Sid Davis turns every day events into comic mayhem! Since his retirement as an airline mechanic, Sid' Davis' climb in comedy was unexpected for a person entering the business at his age. He's turned a lot of heads in the industry. Sid speaks from the end of the Baby Boomer era and hilariously relates to all generations with topics on youth, family, tech, self control and who knows what else! After a lot of lobbying from his peers in the comedy industry, Sid's first appearance on The Bob and Tom Radio Show made him an instant hit.
His knockout performance at the Ventura Comedy Festival earned him a spot on Sirius Comedy Radio's Headliner Showcase.
In March 2013, for the second consecutive year, Sid was voted by "Best in Fest" at the San Luis Obispo (SLO) Comedy Festival.
He headlined this year's Best in Fest Showcase at SLO, aired live on Sirius XM's comedy channels.
Also Appearing:  Cooter Douglas
With power, energy, voices and yes even words, J Jay Boyd has been described as hilarious, one man sitcom.  Everything J Jay does and experiences has instant potential to become part of his act, and he is the tour guide of the whacky world he perceives he lives in.   He was the hand picked opener and writer for Cable Ace Award Winning stand-up comedian Bob Nelson and on-air sidekick on the nationally syndicated "Joey Reynolds" radio show.  J Jay has been the head writer for Basile, a world-wide touring comedian doing shows in both English and Greek. As a member of "The Comedy Express" improv troupe from Long Island, New York whose past members have included Bob Nelson, Rosie O'Donnell, Dave Hawthorne, Richie Minervini and many other native Long Island improv comics.   An incredibly talented and entertaining comedian, J Jay Boyd puts on a show that will guarantee laughs from everyone!
Check out J Jay on Facebook:
https://www.facebook.com/JJAYBOYD
Also Appearing:  Cooter Douglas
​
Natural likability and original jokes are just two of the things that Comedian Mike Green brings to the table.  Mike's infectious enthusiasm and entertaining stories keep crowds in stitches.  He's worked with the likes of Ellen DeGeneres, Tim Allen and Jerry Seinfeld.  He has been the winner of the Las Vegas Comedy Festival and the New York Comedy Expo.  You may also have seen him on NBC's "So You Think You're Funny", Fox, HBO.  
Also Appearing:  Cooter Douglas
From Las Vegas to ABC to A&E, Frank has traveled the country and the world delivering laugh after laugh wherever he goes.  His unique ability to turn ordinary conversations into hilarious comedy routines has made him a highly sought after act by the nation's top comedy clubs, colleges and corporations.  Frank loves what he does and it shows.  His sharp, original comedic nature and quick wit make him a tough act to follow!
Frank Del Pizzo has been seen on Comedy Central, America's Funniest People, Comedy on the Road, ESPN, among others!  He's opened for national acts such as Dave Chappelle, Drew Carey, Gilbert Gottfried and Sam Kinnison.
Chris Barnes has been making his mark on the comedy scene throughout the Midwest, the South, and the East Coast with his storming style of humor. Barnes can be best described as a high-energy comic that will take an audience and keep them laughing as he interprets his experiences of life. Barnes is also the man of many faces; his personality and facial expressions will bring an audience to life. Barnes has worked and laughed with such people as John Mendoza, JJ Jimmy Walker, Andrew Dice Clay, Sinbad, Bill Cosby, and many others. It's no surprise Barnes has become a national headliner, working in such clubs as Dangerfield's in New York City; Rascal's in New Jersey; Zanies in Chicago; Chaplin's in Detroit; Comedy Cafe in Milwaukee; and many others throughout the country.
Also Appearing: Cooter Douglas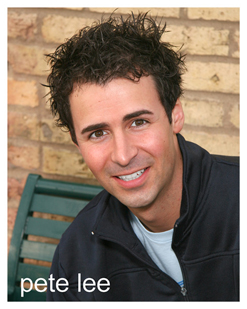 Pete Lee might be the nicest person in New York City, but that's because it's impossible to sound aggressive with a Wisconsin accent. He made his television debut on Comedy Central's Premium Blend. His comedy CD "Gasmoney" plays in regular rotation on XM and Sirius Satellite Radio. He is a regular on The Bob and Tom Radio Show. In 2010, Pete began producing and editing his own shows for the Internet which led to getting his own web show on MSN.com called New York Minute:30.
Recently, he was selected as a semi-finalist on NBC's "Last Comic Standing". His growing popularity placed him 7th out of the top 100 comedians in Comedy Central's "Standup Showdown". Pete also proved that his humor transcends demographic boundaries by winning Country Music Television's "Next Big Comic".
Also appearing: Walker Hays & Cooter Douglas
Joey Kola has performed for hundreds of thousands of people throughout his career in the US, Canada, England. His high energy, spot on punch lines, and fast delivery assault an audience like a comedic freight train.
You may have seen him on "Rachel Ray Show", "The Tonight Show with Jay Leno", "The Late Show with David Letterman", "Comedy Central Presents: Joey Kola", "The Rosie O'Donnell Show", "Comedy Centrals: Premium Blend". 
He has also made appearances on "Who Wants To Be A Millionaire" with Meredith Viera, "The Apprentice", "Survivor Finales", "The Jane Pauley Show", "Wake Up with Ali and Jack" on CBS, or  "The King of Queens" with Kevin James. He toured many casinos with the cast of the Sopranos as part of their live show "Comedy You Can't Refuse".
Currently you can find him everyday on the "Martha Stewart Show" as her warm-up artist and lovable sidekick and "Late Night With Jimmy Fallon".
See more of Joey at:
Also appearing: Alli Breen & Cooter Douglas
Forget "high energy"– this is frantic! His shows are always a night you won't soon forget. Dale has had numerous television appearances including, NBC, TBS, "The Very Funny Show," Last Comic Standing Season Six, Fox, "30 Seconds to Fame" and The Comedy Network in Canada.
He has also been on 2 nationally syndicated radio shows, The Bob & Tom Show and The Bob & Sheri Show. He was one of 8 finalists in The Great Canadian Laugh Off and he was invited to perform at The Boston Comedy Festival as well as the Just For Laughs Festival.
Also Appearing: Jodi White and Cooter Douglas
Perhaps best known as the comedian who puts the cerebral in Cerebral Palsy, Josh Blue centers much of his self-deprecating act around his disability. He exploded onto the national comedy scene by capturing the attention and endearment of the country as the winner of NBC's Last Comic Standing.  Having already established himself as one of the most sought after comedians on the college circuit, his weekly appearances on Last Comic in the summer of 2006 expanded his fan base exponentially.  Josh starred in Comedy Central Presents: Josh Blue, which received rave reviews from fans and critics alike and was named the 11th best special on the network in 2011.  Most recently, Josh debuted a one-hour Showtime special, Sticky Change, where he cracks jokes and tells stories about everything from being a white African-American, to dealing with cabbies who think he'll pay in sticky change.  The special is currently available on Netflix.  He has appeared twice on Ron White's Comedy Salute to the Troops on CMT and recently made his late night television debut on The Late Late Show with Craig Ferguson.
Josh has appeared as a regular guest star on Comedy Central's Mind of Mencia and his story has been featured on Fox, CBS, ABC,and MSNBC.  He was the first comedian to perform stand-up on The Ellen DeGeneres Show, was named Best Winning Reality Show Guest for his appearance on Live with Regis and Kelly, and made a standout guest appearance on Comics Unleashed.  He became the first comic to debut a stand-up special on the big screen when 7 More Days in the Tank was shown in theatres across the country.  Blue is set to appear in the sports based comedy 108 Stitches.  Portions of the performance also aired on Bravo Network as a half-hour comedy special.  Josh is a repeat guest on such nationally syndicated radio programs as NPR's Talk of the Nation and The Mancow Show and has been featured in numerous print publications including People Magazine and The New York Times.  Josh has also performed at the prestigious HBO-Aspen Comedy Festival, Comedy Central's South Beach Comedy Festival, and The Comedy Festival in Las Vegas.  Josh has even become quite an Internet sensation with his top two YouTube videos over 3.5 million plays.
 His stand-up routine is in a constant state of evolution and his off-the-cuff improvisational skills guarantee that no two shows are exactly alike.  Josh was also a member of the US Paralympic Soccer Team and competed in Athens at the Paralympic Games, the world's second largest sporting event.  
Also Appearing: Mike Merryfield & Cooter Douglas
Find more information on Josh:
In a business where to many performers rely on a shtick or the latest political joke du jour to get laughs, Mike Merryfield is refreshingly original. His act never feels fake or forced. By simply being himself, he's become a comic on the verge of stardom.
Some of Mike's credits include winner of Comcast's Trial By Laughter, finalist in the 37th Annual San Francisco Comedy Competition, one of the original Lucky 21 at the HBO Comedy Festival, Sirius XM, Gotham Comedy Live and three albums on iTunes.
Also Appearing:  Cooter Douglas